Ela Orleans


Polish-born, Glasgow based solo artist performing sample-driven songs, often featuring Casio keyboards and reverb-caked vocals. Her work recalls '50s and '60s pop, drawing from influences ranging from Broadcast to Ethiopiques compilations to Bernard Herrmann film scores. Orleans has released records on HB Recordings and Clan Destine Records which have caught the attention of Sonic Youth's Thurston Moore. She has also toured the UK and Europe extensively, worked on soundtracks for Warp Films and completed a full-length LP Upper Hell with trip-hop producer Howie B.
elaorleans.com
------------------------------------------------------------
Cowtown


Devo and Deerhoof influenced post-punk indie-pop trio from Leeds beloved of BBC 6's Mark Riley and anyone who has experienced their joyous and deceptively well-honed party vibes. Cowtown will be working with artist Bryony Pritchard to devise a workshop for children and performing a special participatory set.
cowtown.bandcamp.com/
------------------------------------------------------------
Ravioli Me Away


Ravioli Me Away are a jazzy post-pop punk hip funk band based in London, signed with Good Job Records label. Dangerously ambitious and delusional all girl jazzy post-pop punk hip funk with a stylistically schizophrenic theme spanning all known past, present and future human cultures and sub cultures described as "Vintage drag queen Bananarama you tube footage played with twice the sass and in double time with an incredulous broadband connection reflected in the eyes of a much overworked and downright exhausted Julie Burchill on acid".
raviolimeaway.co.uk/
------------------------------------------------------------
Commoners Choir


An uncommon choir with anarcho-punk roots coming out of Leeds who promise to be BE PECULIAR, MEMORABLE, FEISTY, CELEBRATORY, WITTY, ANGRY AND INCLUSIVE and SING ABOUT THE WORLD AROUND US, ABOUT INEQUALITY AND UNFAIRNESS, AND ABOUT THE THINGS THAT NEED CHANGING performing ANYWHERE WITH AN AUDIENCE.
commonerschoir.com/
------------------------------------------------------------
Stearica


Post-prog-psychedelic-experimental instrumental rock outfit from Turin who have been on tour with legends of the independent scene like NoMeansNo, GirlsAgainstBoys, Suzuki Damo, Ex El, Karate, Acid Mothers Temple (with whom they shared a 32 gigs on a European tour) and Tarentel. Featuring Francesco Carlucci on guitar, bass, piano, loops, vibraphone; Davide Compagnoni on drums, piano, loops,marimba and Luca Paiardi on bass, electric piano, synth.
stearica.net/
------------------------------------------------------------
Marlo Eggplant


Baltimore-born, Leeds-based experimental musician Marlo Eggplant is the curator of the pioneering Ladyz in Noyz compilation series and performs with processed autoharp and contact microphones to create sonically dense improvisations.
www.soundcloud.com/marlo-eggplant/
The Nightingales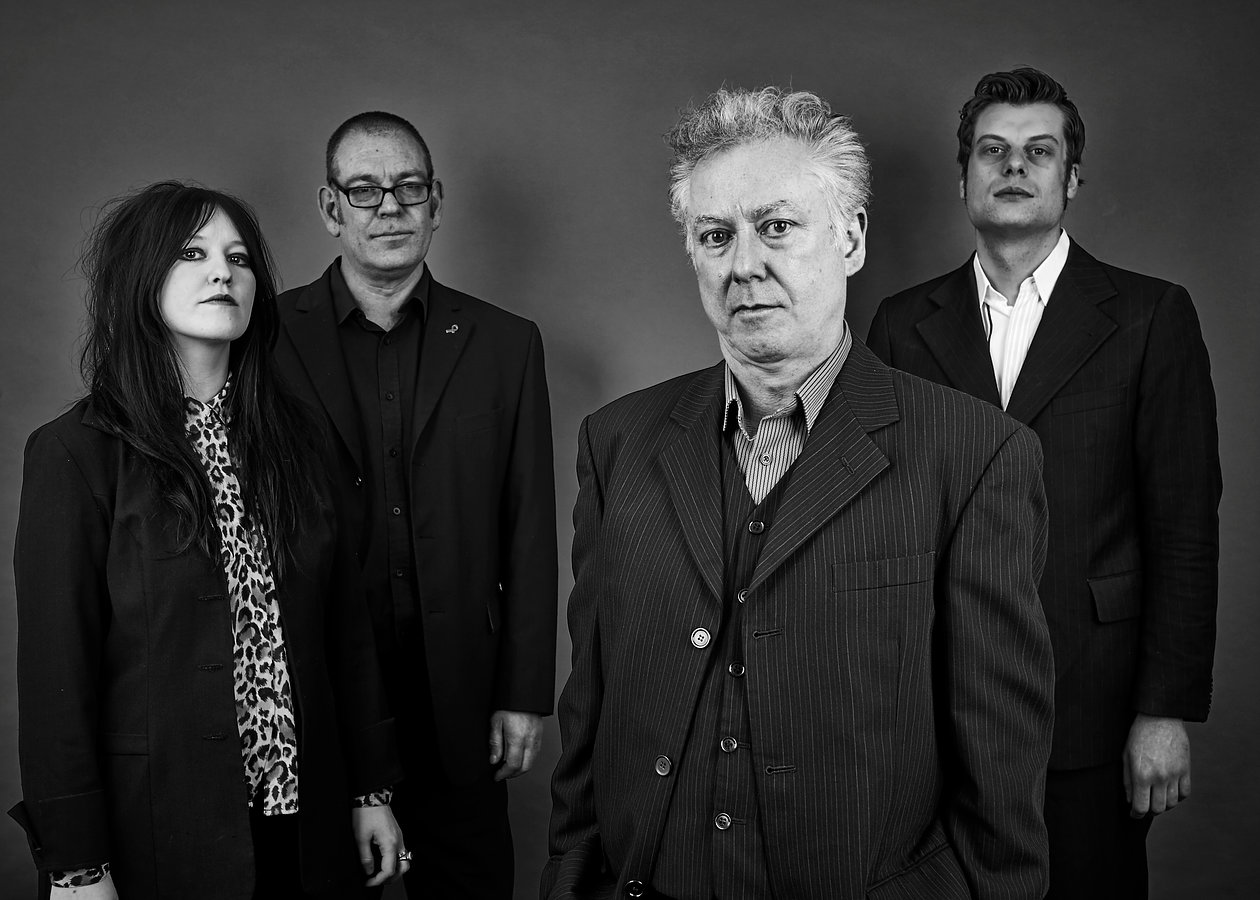 The Nightingales was formed by former members of Birmingham's original punk group The Prefects following that band's demise in 1979. Described in John Robb's definitive book on 'post punk' as "The misfits' misfits" and comprising an ever fluctuating line up, based around lyricist/singer Robert Lloyd, the Nightingales enjoyed cult status in the early '80's as darlings of the credible music scene and were championed by John Peel. The group's most recent trio of albums – "No Love Lost" (Cooking Vinyl 2012), "For Fuck's Sake" (no label 2014) and "Mind Over Matter" (Louder Than War 2015) were all produced by bassist Schmid at Faust Studio in Germany. "No Love Lost" was described by Mojo as "Brilliant. One of the fiercest and most exhilarating rock records in ages." The Nightingales will be releasing two new 7″ singles in the early part of 2016 – and recently performed at ATP Festival on the invitation of Stewart Lee. We're very happy to have them back at The 1in12 Club as part of Threadfest.
thenightingales.org.uk
------------------------------------------------------------
Negra Branca
Marlene Ribeiro aka Negra Branca from Portugal via Manchester has been providing melodic and tonal dreamscapes for psychedelic warriors Gnod since 2008.Boomkat reviewing her debut album on Tesla Tapes say 'The sound of Negra Branca is fragile and layered, a more heady and dubbed-out take on the sort of vocal-led, eyes-down pop variants that everyone from Hype Williams to FKA Twigs have given life to these last couple of years. Produced in Ibiza and Salford, N B is an intriguing, hugely promising debut - highly recommended.'
soundcloud.com/negrabranca
------------------------------------------------------------
The Jelas


Post punk math indie queer pop trio from Bristol who deftly tread the musical tight rope between irreverence, cleverness and charm. A staple of the DIY underground scene for almost a decade and always a joy to experience.
jelas.bandcamp.com/
------------------------------------------------------------
No Borders Ensemble and Bradford Scratch Orchestra



A new group directed by award winning composer Mariam Rezaei emerging from the University of Bradford's Bradford Scratch Orchestra who create open platforms for collective music making for people of all experience and ability.
bradfordscratchorchestra.wordpress.com/
------------------------------------------------------------
Fling


Off kilter psychedelic pop from Bradford with members of NGOD, Koala and Illusory Centre in a Syd Barret era Pink Floyd / Bowie vein.
soundcloud.com/flinggg
------------------------------------------------------------
Serious Sam Barrett


Threadfest are very happy to welcome back country folk blues globetrotter Sam Barrett who has been taking his brand of fingerpicked Yorkshire-cana all over the USA and to major festivals like SXSW and Glastonbury.
serioussambarrett.bandcamp.com/
------------------------------------------------------------
Kontiki


Bradford's newest afrofunk outfit with members you might recognise from The Wobbly Brothers, Homba and the like. Fela Kuti, The Sorts, and Golden vibes rolled up into a tight as you like dance unit.
Ogoya Nengo & The Dodo Women's Group
Ogoya Nengo, born Anastasia Oluoch in 1943, in a small village called Magoya, near the Kenyan shores of Lake Victoria. Hailing from a family of singers and orators, she soon joined their trade and practice as social messengers and commentators, commonly referred to by the locals as Dodo singers. Already in her early teens Anastasia had achieved much acclaim in her society and received the name "Ogoya Nengo" which means "The Priced One" at the early age of 13. Ogoya became the rave of the time, criss-crossing the region with their music, singing to great chiefs, warriors and colonial officers who became enraptured by her talent. Ogoya Nengo's approach to Dodo, a genre which is in danger of vanishing, is a very personal one: Her timeless and mystical music is characterized by her powerful voice.
She is a legendary folk artist who has had an immense career spanning over three decades, but due to limited resources her music had remained in her region: This has changed a lot with the release of Ogoya Nengo's international debut album "Rang'ala - New Recordings From Siaya County, Kenya" which had been produced in June and July 2013 by German experimental music mavericks Stefan Schneider and Sven Kacirek and came out in fall 2014 on London's record label of taste, Honest Jon's: Using nothing else than vocals and a bit of percussion this is a unfiltered declaration of the song as an universal language. Afterwards,
Ogoya Nengo & The Dodo Women's Group were invited to influential festivals such as Africolor in Paris, Le Guess Who? In Holland or or Poland's leading open air extravaganza, OFF in Katowice, where this bunch of seasoned East African performers was greeted by thousands of kids who went absolutely ballistic!
A new album of heavy Kenyan roots music will be released by the new Düsseldorf based imprint TAL Recordings in spring 2016.
------------------------------------------------------------
Daniel Wakeford


Pure and ecstatic pop from a charismatic, charming and honest individual. Daniel Wakeford is a singer-songwriter from Brighton who has written and recorded over 5 albums. He has been performing in and around Brighton and London for years and due to the purity in Daniel's songs and performances, he wins over pretty much every audience he plays to. His songs are about his life and the things he loves, from his family and friends, to Beethoven. Daniel is an important part of the learning disabled music scene in Brighton, centred around a night called The Rock House, and through celebrating Daniel as an artist who has autism, it will portray a much needed positive image of learning disabled people in the media and will help highlight the challenges faced by musicians with learning disabilities.
rockhouserecords.bandcamp.com
------------------------------------------------------------
Ichi


ICHI is a Japanese experimental singer-songwriter, instrument-maker and performance artist based in Bristol. Playful masterstroke of a third album Maru, will was released in March 2016 on limited-edition cut cover CD and download and is preceded by the single'2 Klaxons'. ICHI takes the notion of one-man-band to new limits combining handmade instrument inventions with steel-drum, ping-pong balls & tape-loops. To see ICHI live is to witness something totally idiosyncratic and entirely new. It's fun, it's danceable, it's exciting. There's an ancient, ritualistic feel to his performances – he's like the displaced leader of a lost tribe.
ichicreator.com/
------------------------------------------------------------
H Morse


Bradford 6 piece producing waves of sound, utilising guitars, violin and multiple vocals. Wide and full, ponderous then crashing intense music influenced by post-rock, folk and luddite rebellion.
hmorse.bandcamp.com