Brentford Works
January 2014. Brentford, London.
BRENTFORD WORKS: Brentford embraces the independent trader and self-starter
Looking to make a fresh set of connections to bring independents and artisan food producers into the high street, Brentford Works opened its doors in December with its first exchange event.
Occupying the old opticians shop unit on the corner of Tallow Road and High Street, Brentford Works is a meanwhile space that welcomes ideas and ways of working that strengthen the local network of traders particularly the independent, artisan, or local producer. Working closely with the Brentford High Street Steering Group riding high on its success with increasing numbers of traders and visitors, Brentford Works seeks to encourage more young enterprise onto the high street and to open up opportunities for new forms of complementary enterprise.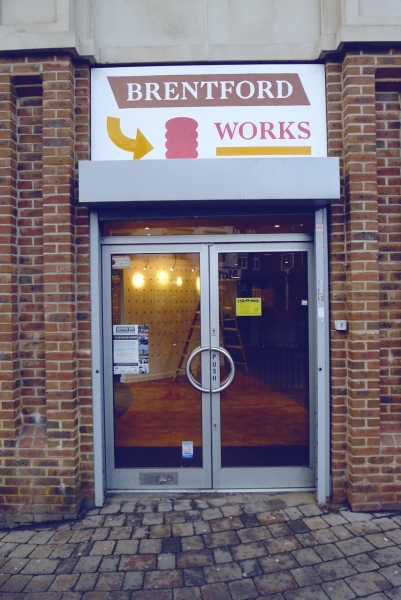 Over forty traders and local businesses attended the exchange event on the 16th December to explore how they might test new ways to meet their public by using the shop unit as a testbed space. First through the doors was Neil Vanstone, owner of Coffee NV that began trading in May this year and now a regular stallholder at the Sunday Market. 'Taking over the space for a week in January allowed me to expose the business further to local people which has given me a great insight to the local demographics and the everyday use of the high street. I'm looking to use it again in February'.
With more traders interested and a second networking event 'The Brentford Exchange' on the 29th January run by The Decorators, Brentford Works aims to bring the high street to new audiences, and local people to sample its offer.
Chair of Brentford High Street Steering Group, Andrew Dakers, says 'Brentford Works provides a terrific meanwhile use for one of the last vacant units on Brentford High Street. We hope this platform will see new businesses trial their services and, in time, a new long term tenant found for the unit that will bring quality services and additional diversity to the High Street. This could include several traders working together to create a brand new offer. Like Brentford Market, this could established itself as a key part of local community life, providing wonderful food and a place for neighbours and visitors to catch up'.
For more information on Brentford Works' next event and to attend on the 29th January, please contact info@brentfordbikes.org.
For further information on Brentford Works, contact Sue Ball sue@sueball.co.uk
------------
Editors Notes
Brentford Works
Brentford Works is a meanwhile space that aims to support independent retail and the self-starter. The demand for making new connections for high street regeneration arose through consultation activities supporting the OLF programme in Brentford led by Kinnear Landscape Architects with support from Mayor of London Office and London Borough of Hounslow.
Brentford Works was initiated by Sue Ball, Director of Art In Unusual Space Community Interest Company, by taking a license for 188 High Street Brentford from landlords Canal & River Trust for a three month period ending in February 2014. With a new brand and identity from Europa Design and working with the Decorators to run three 'animation' exchange workshops aimed at the independent and high street retailer, the programme will support the regeneration of the high street.
The Decorators
www.the-decorators.net
The Decorators , with landscape architect Suzanne O'Connell, are an interdisciplinary group of practitioners working with space, designing experiences that invite people to engage with objects and architecture. Architecture, psychology, landscape, interior and graphic design are our tools.
Brentford High Street Steering Group & Brentford Market
brentfordmarket.squarespace.com
Coffee NV
https://www.facebook.com/weareCoffeeNV