Tower Works Interventions. Holbeck and Leeds City Centre, Jan - Sept 2009.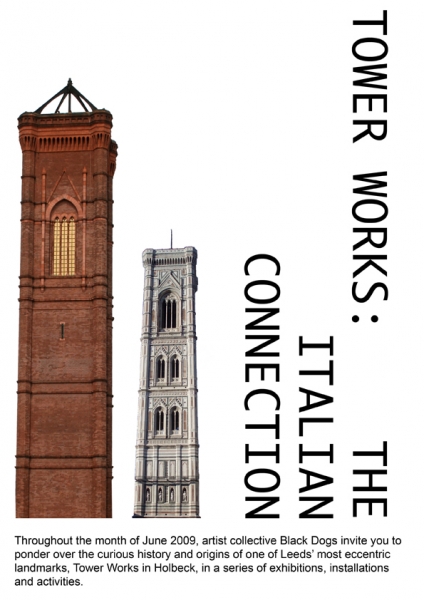 In 2009 Black Dogs worked on a series of interventions, events and exhibitions in response to the Tower Works site in Holbeck, Leeds. Throughout June we invited the public to ponder over the curious history and origins of the three Italianate chimneys that make the site one of Leeds' most eccentric yet criminally overlooked landmarks.
Maverick pin-maker Colonel Harding opened the site in 1864, choosing to give Leeds factory workers and residents a little taste of Italy by replicating three towering attractions from Florence, Verona and Tuscany. In a tri-part series of exhibitions, installations and activities, Black Dogs offered the opportunity for people to celebrate, learn, and share stories about Tower Works playing on their Italian connection. Click on links to see the projects.
1. The Bells of Florence brought to Leeds.
2. Exhibitions of photography from South Leeds and Florence.
3. Walks around Leeds and Florence
Black Dogs' Tower Works interventions and projects were commissioned by MAAP and formed part of the Yorkshire Forward redevelopment of Tower Works.
Black Dogs Tower Workers were
Andy Abbott, Michael Burkitt, Yvonne Carmichael, James Hill, Richard Ormrod, Dave Ronalds, Jennyanne Smith, Mick Welbourn